Website Accessibility
The Discover Bexhill website has been designed to comply with the Web Content Accessibility Guidelines 1.0. These guidelines were created to help improve the browsing experience of people with disabilities.
This website complies with the minimum of level A accessibility standard, as well as conforming to many other checkpoints in the higher guideline levels. To aid you with navigation of the site there is a site map available (access key 's').
You can change the size of text on this site by using your web browser settings. In Internet Explorer and Mozilla Firefox you can set this by going to the menu 'View' and then to 'Text Size'.
Below is a list of access keys that can be used on this site. If you are using Windows, use ALT followed by the key stated. If you are using an Apple use CTRL followed by the key stated.
[ h ]Back to Homepage
[ 0 ]Back to This Accessibility Page
[ a ]About Bexhill-on-Sea
[ p ]Photograph Gallery
[ b ]Bexhill's Attractions
[ n ]Latest Bexhill News
[ r ]Where To Eat
[ w ]Where To Stay
[ u ]Useful Information
[ q ]Bexhill Maps
[ e ]Bexhill Events Diary
[ z ]Message Board
[ s ]Sitemap
[ c ]Feedback / Contact Me
If you would like to contact me, I would love to hear from you. Please see my Feedback page or hit the 'C' access key.
Alastair Hazell
A chilly Bexhill winter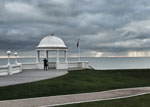 We're experiencing a chilly January in Bexhill (this seems to happen every year, I can't imagine why). Read all about it in the blog and enjoy a seasonal poem.
---
Quest for the best Bexhill Sunday roast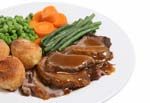 Finding a decent Sunday roast dinner in Bexhill can be tricky. I list the best ones.
---
Bexhill rowers' epic atlantic achievement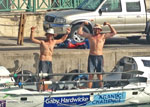 Detailing the amazing story of Bexhill rowers Phil McCorry and Dan Renner as they rowed the Atlantic
---
Read more articles on the blog.
Wednesday: Clear Sky
Max temp:
Min temp: 3°C (37°F)
Thursday: Light Rain Shower
Max temp: 6°C (43°F)
Min temp: 1°C (34°F)
Friday: Light Cloud
Max temp: 5°C (41°F)
Min temp: 0°C (32°F)
(weather info from BBC Weather Centre)
30 Jan
Pop And Soul With Hana Christine
7pm at No.48 Devonshire Rd Bexhill.
30 Jan
Quiz Night
7pm at Christchurch Methodist Hall .
31 Jan
Elvis Tribute Night With Chris Field
7pm at No.48 Devonshire Rd.
31 Jan
Bexhill United FC V Worthing United FC (Sussex County:- Reserve Section East)
3pm Kick Off at The Polegrove Recreation Ground, Brockley Road.