Request a Free Bexhill Guide Booklet
The Bexhill Town Guide is a small, A5 booklet packed with information and photographs of Bexhill-on-Sea and surrounding areas. The Guide includes maps, events diary, accommodation guide, restaurant guide, what to see and do and much more. Grab your copy now.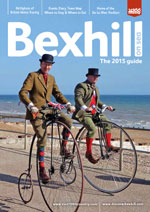 To get hold of a free copy of the Bexhill Guide, you have several options:
You can download a PDF (10mb) - recommended for those who live abroad.
You can fill in the form below and we will send one to you.
If you are local, you can collect one from De La Warr Pavilion foyer, Bexhill Library, Bexhill Station, Community Help Point at Amherst Rd, Old Bathing Station in West Parade, No.48 Devonshire Road, Di Paolos Cafe, Dunselma B&B Marina.

Please note: The contact information that you provide will be used only to send you a free copy of the Guide and not for any other purpose. Your e-mail address is requested as a contact point incase we have any queries with your information.