Disclaimer
This website and its contents are provided "as is" without warranty of any kind and are based on information supplied to its owner Alastair Hazell. I do not guarantee the accuracy of the information shown on this website and accept no responsibility for any errors, subsequent changes or consequential damages or inconvenience caused.
Discover Bexhill contains links to external web sites. In no event shall Discover Bexhill or its owner, Alastair Hazell, be responsible for the content, accuracy or opinions expressed in these sites.
No part of this website may be reproduced without the prior written consent of Alastair Hazell.
© Copyright: Alastair Hazell 2015
A chilly Bexhill winter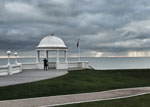 We're experiencing a chilly January in Bexhill (this seems to happen every year, I can't imagine why). Read all about it in the blog and enjoy a seasonal poem.
---
Quest for the best Bexhill Sunday roast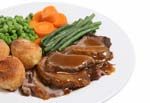 Finding a decent Sunday roast dinner in Bexhill can be tricky. I list the best ones.
---
Bexhill rowers' epic atlantic achievement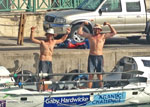 Detailing the amazing story of Bexhill rowers Phil McCorry and Dan Renner as they rowed the Atlantic
---
Read more articles on the blog.
Tuesday: Light Cloud
Max temp:
Min temp: 5°C (41°F)
Wednesday: Heavy Rain Shower
Max temp: 10°C (50°F)
Min temp: 2°C (36°F)
Thursday: Light Cloud
Max temp: 5°C (41°F)
Min temp: 1°C (34°F)
(weather info from BBC Weather Centre)
30 Jan
Pop And Soul With Hana Christine
7pm at No.48 Devonshire Rd Bexhill.
30 Jan
Quiz Night
7pm at Christchurch Methodist Hall .
31 Jan
Elvis Tribute Night With Chris Field
7pm at No.48 Devonshire Rd.
31 Jan
Bexhill United FC V Worthing United FC (Sussex County:- Reserve Section East)
3pm Kick Off at The Polegrove Recreation Ground, Brockley Road.