Disclaimer
This website and its contents are provided "as is" without warranty of any kind and are based on information supplied to its owner Alastair Hazell. I do not guarantee the accuracy of the information shown on this website and accept no responsibility for any errors, subsequent changes or consequential damages or inconvenience caused.
Discover Bexhill contains links to external web sites. In no event shall Discover Bexhill or its owner, Alastair Hazell, be responsible for the content, accuracy or opinions expressed in these sites.
No part of this website may be reproduced without the prior written consent of Alastair Hazell.
© Copyright: Alastair Hazell 2015
A seagull's story, from chick to adult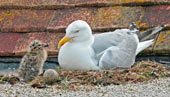 Chronicling the journey - from chick to first flight - of a baby seagull on a Bexhill rooftop.
---
Be a Bexhill Roaring 20s record breaker!
Discover how you can be part of Bexhill history by helping our town break a world record at the Bexhill Roaring 20s 2015.
---
Quest for the best Bexhill Sunday roast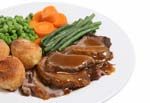 Finding a decent Sunday roast dinner in Bexhill can be tricky. I list the best ones.
---
Read more articles on the blog.
Thursday: Clear Sky
Max temp:
Min temp: 3°C (37°F)
Friday: Light Cloud
Max temp: 9°C (48°F)
Min temp: 7°C (45°F)
Saturday: Thick Cloud
Max temp: 11°C (52°F)
Min temp: 8°C (46°F)
(weather info from BBC Weather Centre)
27 Mar
Folk Melodies From Titus
7pm at No.48 Devonshire Rd.
28 Mar
Party Music With Mike Nield
7pm at No.48 Devonshire Rd.
28 Mar
Crafts, Hobbies And Talents Day
10am - 4pm at Christchurch Methodist Church, Springfield Rd.
01 Apr
ESSPA Presents 'Sleeping Beauty'
Evening shows 7:15pm, Matinee at De La Warr Pavillion.