Disclaimer
This website and its contents are provided "as is" without warranty of any kind and are based on information supplied to its owner Alastair Hazell. I do not guarantee the accuracy of the information shown on this website and accept no responsibility for any errors, subsequent changes or consequential damages or inconvenience caused.
Discover Bexhill contains links to external web sites. In no event shall Discover Bexhill or its owner, Alastair Hazell, be responsible for the content, accuracy or opinions expressed in these sites.
No part of this website may be reproduced without the prior written consent of Alastair Hazell.
© Copyright: Alastair Hazell 2015
Be a Bexhill Roaring 20s record breaker!
Discover how you can be part of Bexhill history by helping our town break a world record at the Bexhill Roaring 20s 2015.
---
A chilly Bexhill winter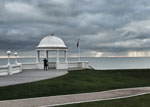 We're experiencing a chilly January in Bexhill (this seems to happen every year, I can't imagine why). Read all about it in the blog and enjoy a seasonal poem.
---
Quest for the best Bexhill Sunday roast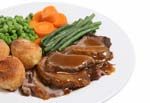 Finding a decent Sunday roast dinner in Bexhill can be tricky. I list the best ones.
---
Read more articles on the blog.
Monday: Partly Cloudy
Max temp:
Min temp: 4°C (39°F)
Tuesday: Sunny Intervals
Max temp: 8°C (46°F)
Min temp: 2°C (36°F)
Wednesday: Sunny Intervals
Max temp: 9°C (48°F)
Min temp: 0°C (32°F)
(weather info from BBC Weather Centre)
03 Mar
Marcus Bofanti
8pm at Mrs Yarringtons Music Club, Senlac Inn. , Battle
06 Mar
Irish Folk With The Leprechauns
7pm at No.48 Devonshire Rd.
07 Mar
Moscow Ballet - Swan Lake
7.30pm at De La Warr Pavilion.
07 Mar
Tom Fitzpatrick - Crooner
7pm at No.48 Devonshire Rd.