Latest Train Information
If you are looking to travel by train between Eastbourne and Hastings, Brighton, Gatwick Airport or London (or any stations in-between) then you should find this section helpful.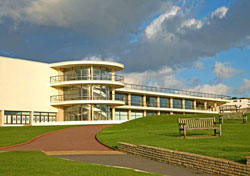 Look up the latest train times for Eastbourne station or plan your journey to and from Eastbourne with the journey planner.
If you are visiting Hastings, why not also visit sunny Bexhill? Bexhill-on-Sea is a 15 minute train ride from Eastbourne. Why not request a free guide brochure?.
Eastbourne Station Train Times
Due to changes in the National Rail website, live train times can no longer be displayed on Discover Bexhill. Instead, you will need to click through to view the live train departure and arrival boards for Eastbourne station.
I would like to thank Matthew Somerville and his UK train timetable website for his help with the live train information script.
Engineering Works
Find out about planned engineering works for any date using the form below. This form links directly through to the National Rail Enquiries website:
Train Timetables - Journey Planner
Plan your train journeys to and from local train stations using this planner. You can either type in the name of a station or select it in the list on the right and click the relevant 'Add' button. This form links through to the train timetable information on the National Rail Enquiries website.
The timetable planner above includes the following train stations:
Bexhill, Battle, Collington, Cooden Beach, Eastbourne, Gatwick Airport, Hastings, London Bridge, London Charing Cross, London Victoria, St Leonards Warrior Square. You can also type any other station name into the box.