Bexhill train information
This page features information on departures and arrivals for trains to/from Bexhill station. It also contains a form for you to look up train timetables and plan your journey to and from any destination in the UK.
Bexhill station train times - 7:57 GMT
Due to changes in the National Rail website, live train times can no longer be displayed on Discover Bexhill. Instead, you will need to click through to view the live train departure and arrival boards for Bexhill station.
---
Train Timetables - Journey Planner
Plan your train journeys to and from local train stations using this planner. You can either type in the name of a station or select it in the list on the right and click the relevant 'Add' button. This form links through to the train timetable information on the National Rail Enquiries website.
The timetable planner above includes the following train stations:
Bexhill, Battle, Collington, Cooden Beach, Eastbourne, Gatwick Airport, Hastings, London Bridge, London Charing Cross, London Victoria, St Leonards Warrior Square.
---
Engineering Works
If you would like to find out about future engineering works, simply follow this link to the National Rail website. Note that the Southern service runs between Hastings and London Victoria, traveling through Bexhill and Eastbourne stations. The South Eastern Service runs between Hastings and London and travel through Battle, Tunbridge Wells up to London Bridge and London Charing Cross.
A seagull's story, from chick to adult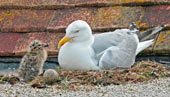 Chronicling the journey - from chick to first flight - of a baby seagull on a Bexhill rooftop.
---
Be a Bexhill Roaring 20s record breaker!
Discover how you can be part of Bexhill history by helping our town break a world record at the Bexhill Roaring 20s 2015.
---
Quest for the best Bexhill Sunday roast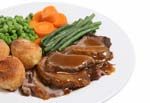 Finding a decent Sunday roast dinner in Bexhill can be tricky. I list the best ones.
---
Read more articles on the blog.
Wednesday: Light Cloud
Max temp: 10°C (50°F)
Min temp: 6°C (43°F)
Thursday: Light Cloud
Max temp: 9°C (48°F)
Min temp: 6°C (43°F)
Friday: Heavy Rain
Max temp: 11°C (52°F)
Min temp: 6°C (43°F)
(weather info from BBC Weather Centre)
01 Apr
ESSPA Presents 'Sleeping Beauty'
Evening shows 7:15pm, Matinee at De La Warr Pavillion.
02 Apr
Condey Night
7pm at No.48 Devonshire Rd.
03 Apr
Great Music With The Band Beat Street
7pm at No.48 Devonshire Rd.
04 Apr
The Chandeliers Covers Basnd
7pm at No.48 devonshire Rd.