Discover Bexhill-on-Sea
Bexhill-on-Sea is the birthplace of British motor racing and home of the De La Warr Pavilion.
Nestling between the bustling resorts of Eastbourne and Hastings, the British seaside resort of Bexhill is set in magnificent countryside. There are a wealth of castles, historic attractions and places of interest in and around Bexhill and 1066 Country, for young and old alike.
---
Bexhill Roaring 20s 2015
Saturday 18 July 2015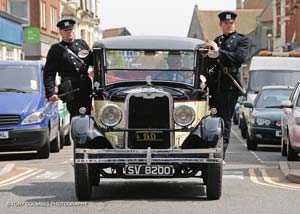 Returning for 2015, the Bexhill Roaring 20s event promises an action packed day. Join in with the Charleston world record attempt at 1pm. Watch the action unfold in the 1920s prohibition raid in Devonshire Road, enjoy dancing and music on the lawns and terrace in front of the De La Warr Pavilion and take in the spectacular air displays by the iconic Spitfire, Hurricane and Lancaster bomber. Visit the Roaring 20s website.
---
Weather for Tuesday: Sunny Intervals
19°C
66°F

Maximum temperature: 19°C (66°F). Minimum temperature: 15°C (59°F).
Wind Direction: South Westerly, Wind Speed: 17mph, Visibility: Good, Pressure: 1010mb, Humidity: 89%, UV Risk: 6, Pollution: Low, Sunrise: 04:53 BST, Sunset: 21:12 BST
You can see the latest weather data and a full forecast on the weather page.
Upcoming Events
08 July
Over The Top - Bright Lights Theatre Company
7.45pm (Sat Matinee 2.30pm) at Little Common Methodist Church Hall, Little Common.
10 July
No Exit Cover Band
7pm at No.48 Devonshire Rd.
11 July
Irish Folk With The Leprechauns
7pm at No.48 Devonshire Rd.
11 July
Little Common Summer Fayre
3pm to 5pm at The Wheatsheaf.
16 July
NT Live - Everyman
7pm at De La Warr Pavilion.
17 July
Rockabilly With The Memphis Flyers
7pm at No.48 Devonshire Rd.
18 July
Bexhill Roaring 20s
10am - at Seafront, DLWP and Town Centre.
18 July
Swing And Soul With Ricky Hendrie
7pm at No.48 Devonshire Rd.
Lazing on a sunny afternoon
Visit Bexhill
If you are interested in visiting Bexhill, then look no further for your information needs. You can look through our accommodation guide, browse through the best restaurants and cafes and see what attractions Bexhill has to offer.