A Life in Bexhill
Article date: 13 August 2015
---
Sometimes it's easy to forget how fortunate we are to live in a peaceful time, where our biggest fear revolves around accidentally dropping our mobile phone down the toilet. With 2015 being the 75th anniversary of the Battle of Britain, it's an apt time for us to remember how life was during the time of World War II.
In this latest article, Bexhill resident Alma Charnock looks back through the decades and tells Discover Bexhill her charming story in the town she has always loved...
---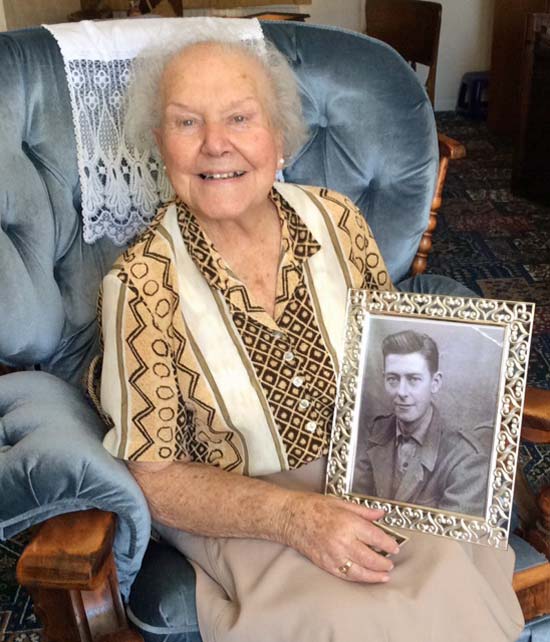 There have been two great loves in the life of 89 year old Alma Charnock.
One was husband Hal with whom she was married for almost half a century having met when she was just 16.
And the other is Bexhill itself, the town she was born and grew up in, living here during some of the most challenging years in its history. She has seen Bexhill change and evolve and yet remain the same in so many ways, the small cosy seaside town that was home and kept her and many others somehow safe and sound during the darkest times.
"I love Bexhill," says Alma of Reginald Road. "We were very close knit community here. I loved it then and I still do. I don't know why, but probably it was because we all knew each other. It was just a family town really - very quiet."
She can remember back to when she was a schoolgirl sitting outside The Sackville on the seafront with her friends watching the grand Rolls Royces arrive with glamorous beauties inside.
"We used to go and sit down when we knew there was a bit of a do, or a big dance on, and just watch," she remembers. "All these girls in their gorgeous dresses. And we used to say - I'll have one of those when I leave school and grow up, I'll have a car like that, and I'll go out dancing."
Born in Salisbury Road, Alma was the youngest of a large family and spoiled rotten - "I was ruined" - by her older half-brothers and sister.
"To be honest Salisbury Road was not the best road in town in the old days when I was young, but having said that they were all ex-soldiers from the first world war living there, and they were damn good neighbours. You could leave your windows and doors open, and I don't think we ever locked our front door. But that was life in Bexhill."
Her mother Caroline had been a young widow having lost her husband Bert Gower in the The Great War but she met a man in Arthur Torrance who was prepared to take on a wife who already had six children. Then in 1925 Alma was born on September 5. Her brothers, who all played football for Bexhill, took her everywhere with them, while sister Mabel was 21 years older, and all watched out for her.
She went to St Peter's school in Barrack Road before going to the Down School, and had just left - no doubt ready in her heart to go out dancing - and was working in one of Bexhill's laundries when suddenly everyone's future dreams closed in around them.
"War broke out on September 3 1939. We were all horrified that it was happening and I remember my brothers and my sister all came to my mum's home in Salisbury Road. I will always remember that. They didn't know what was happening, so they all came, everybody was confused. It sounds stupid now, but that's how it was. They all came to listen to the broadcast on the radio. Then of course the air raid siren went and we all rushed out into the street, which we shouldn't have done - I think it was just sounded as a sign that war had been declared, but we didn't know."
Her brothers all volunteered to fight, and her father also rejoined the army, leaving Alma alone with her mum . "None of us knew what to do. There were two laundries at the end of Reginald Road, the Empire and The Sackville, so I went there to work because mother worked there already, and my sister Mabel also worked there. At that time, there was nothing here and nowhere to work. There was only Woolworth's or Longley's in Devonshire Road, if you could get a job there, but unemployment had been rife.
But then when the war started we were all evacuated because there was a fear of invasion - it was very serious. To us girls who had just left school we had no idea was was going to happen, we were just told we were going to get invaded. So I went with my mum to my brother George, who was a driver for the Royal Navy, and lived in Strood in Kent...the bombing hadn't started then up there. To get there my and mum went through Hastings and Rye and we had to prove our identity to guards all along the way."
Having settled in with George and his wife Win, Alma and her mother were stunned one day when the police turned up with the devastating news that their home in Bexhill had been damaged.
"A bomb had fallen in Amherst Road. Our place took the force of it. It had dropped in Amherst Road but we took the full effect. The police came to my brother's in Strood and said they had been looking for mother to tell her. I remember the sheer panic. Everyone had been getting out of town, and they didn't know where we had gone.

They said - we just didn't know where to find you.

So mum and I came back to Bexhill, we got the bus back, and we walked up to Salisbury Road. My mum was saying there would be no windows or doors and that the house must be wide open, with everything gone. We stopped to talk to our neighbour, old lady Freeman, who was not going to be evacuated for anybody, and my mum said - how long has it been like that? She said - I am sorry Carrie, but it has been like that for a week, but no-one could find out where you were. My mother just burst into tears. She said - there will be nothing left inside, I know there won't.

But we went in, and there was not so much as a spoon missing. I will never forget that. There was glass everywhere but still the sheets my mum had covered the furniture up with. It was incredible. The place was wide open with no front door. Mum broke down, I think with relief. And then she said - I am not going back. If I am going to die, I'll die in my own home. I am not leaving anymore."
Alma and her mother settled back home in Bexhill and got jobs with Miss Stampton who owned a number of the laundries locally including the Royal Marine laundry in Eastbourne. Alma, who was only 16 by this time, would walk up to the bottom of Belle Hill every morning at 8am to be transported with other girls to work in Eastbourne.
"I'm still friends with them." said Alma. "The Stevens family lived in London Road, and mum, me and the Stevens girls were all picked up in the laundry van just near where the chip shop used to be. And it was then I met my husband. Around this time the army trucks would come along London Road, which was the main road, and all the soldiers used to whistle at us. We thought it was great. Then one day the convoy stopped and the men were whistling, and I looked up and saw this man right at the back of the lorry, and I thought - he is very good looking. I thought that was that though, and never dreamed I would see him again."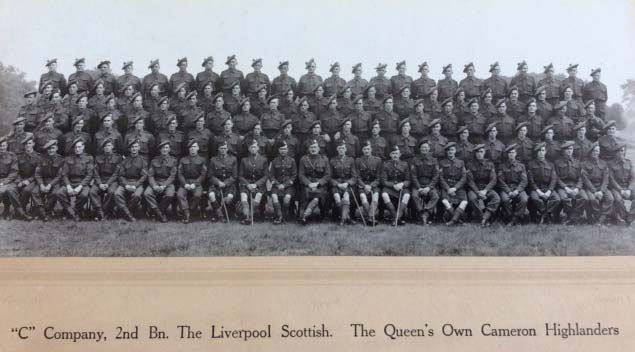 Hal served with the Liverpool Scottish.
But see him again she did, when she was walking along the Marina with her great friend Muriel Davis, just near the Fortes ice cream parlour, and they were called over by a group of soldiers who wanted them to come and chat. She recognised Hal, who was Harry Charnock serving with the Liverpool Scottish attached to the Queen's Own Cameron Highlanders based in Bexhill and they were staying in guesthouses along the seafront as well as The Sackville. Alma was asked out by another of the guys but Hal said firmly she would be going with him to the cinema that night, and took her to the Playhouse in Western Road where Alma was unimpressed by the cheapness of the seats he opted for.
Afterwards she invited him home, knowing that her parents were having their usual Saturday night out at the Sussex pub in London Road, and even offered him baked beans on toast - something her mother was livid about later because food at that time was rationed and baked beans not to be given away. It was pretty much love at first sight for both Alma and Hal, who was six years older and had no idea she was only 16, and they continued to see each other as he was moved across to Pevensey, meeting at Bexhill Post Office whenever they could organise to have an evening out.
Alma, who was smitten, thought his only fault was that he didn't like dancing, so she was devastated later to find out he had already had a fiancee back in Liverpool. Hal came clean about it and went home on his 22nd birthday to be with his family and tell his fiancee that the engagement was off. He came back to Bexhill and showed Alma the ring as proof the deed was properly done. "After that we started dating regularly. It was so romantic, it really was."
The war however once again put an end to Alma's immediate dreams, when Hal was posted to Yorkshire and then sent abroad. In 1942 she received a letter from Hal's mother to say he had gone missing and there was fear he had been killed. However he had been captured in Tobruk and made a Prisoner of War, first in Italy but then in Germany and finally enduring the hardship of being dragged in cattle trucks to Czechoslavakia, an experience which he hardly ever spoke of but never forgot. He wrote to Alma as often as he could and she still, of course, has all the letters which meant so much to both of them.
VE Day was a joyful day which Alma remembers clearly. There was a big party in the Drill Hall but Alma and her family, including brother John and his wife Frances who lived in Buxton Drive, went to the Denbigh where everyone celebrated and Alma played the piano all night, once the owner of the Denbigh got over the fact she was old enough to be there. "It was wonderful. People were dancing and singing and it was absolutely marvellous."
Alma was actually ill in bed when Hal was finally transported home. There had been an outbreak of German Measles in Bexhill which tore through half of the RAF staying in the Sackville and spread through laundry to local girls working in them such as Alma. She was still feeling unwell when her sister ran in shouting - Hal is here! Alma might not have felt her best but luckily her long black curly hair must have looked stunning as her boyfriend arrived at the front door, climbed the stairs, came inside her bedroom and saw her lying here, saying: "I've come back all this way to see you. And this is what you do to me."
They married that year, 1945, in St Peter's church in Old Town and then went up to Liverpool where Hal worked with the famous Liverpool Echo as a printer, sharing two rooms in a friend's house. Alma was miserable to be there though and missed Bexhill with all her heart, so she was thrilled when he was offered work in Watford and she could move back with her family, to the home town she adored, and Hal commuted down at weekends to visit, first by train, and later by motorbike.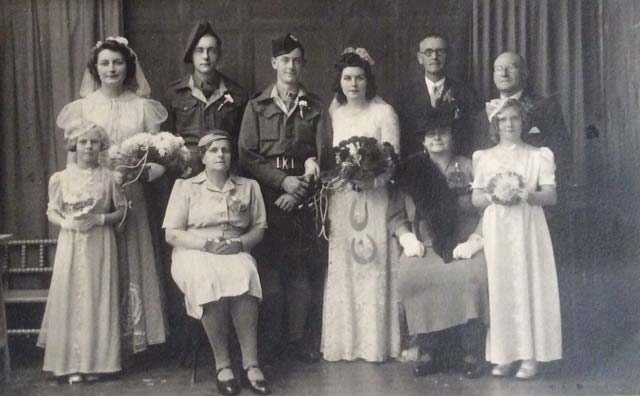 They were married for 47 years, and Hal had started planning their golden wedding celebration when he died of cancer. " I never told him he was dying," said Alma, "and he had tried to protect me as well, when he first knew he was ill. But I have been very lucky. Hal was a cracker...even though he didn't dance. And I have had a wonderful life."
Written by Lucienne Corner
---
Your comments
I always love to hear your comments, so please feel free to comment below. Note that you can post without having a login - simply select the 'guest' checkbox.