John Logie Baird in Bexhill
Written by Malcolm Baird
My father spent the last 18 months of his short and eventful life in Bexhill, where he died on June 14 1946 at the age of 57. However, this was not his first connection with East Sussex. In the spring of 1923 he had arrived at Hastings after suffering a health breakdown, and as he recovered he began his work on television. The rest, as they say, is history.*
---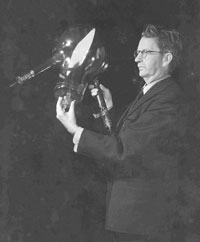 John Logie Baird holding his Telechrome Colour Tube
By the late 1930s my father was married with two children, Diana (born 1932) and me (born 1935). We enjoyed an affluent lifestyle in our large house in Sydenham, near the Baird company's laboratories and factory. However the company went into receivership when broadcast television was stopped at the outbreak of war. My father carried on doing research on television at his own expense, while my mother and Diana and I moved to the remoteness and safety of North Cornwall.
By 1944, the end of the war was in sight. The house at Sydenham had become uninhabitable due to bomb damage; so the family moved instead to Bexhill in January 1945. My father had a high opinion of the sea air and the dry climate of East Sussex which had helped him to regain his health 20 years earlier.
We rented a house at 1 Station Road, just across the road from the station and handy for the London trains. A new company called John Logie Baird Ltd. had been formed to promote his recent inventions which included the "Telechrome", the world's first cathode ray tube for colour television. My father divided his time between Bexhill and London, where he was continuing his research and making plans for the resumption of television broadcasting after the wartime shut-down. I vividly remember a family visit to London where we were shown experimental colour television; the picture was large and bright, a great improvement over the small flickery images of the old mechanical system of television. On another occasion we all went to see "Fine Feathers", a cheerful West End revue starring Jack Buchanan, my father's old school friend and financial backer.
I attended a small independent school called Sandown, which was situated on the Hastings Road, a short trolley-bus ride from our house. The headmaster was Stanley Sulman, an imposing bearded gentleman, a veteran of the Boer War, generally known to the pupils as "Sir". The staff consisted mainly of his relatives and it was a good school with a friendly atmosphere.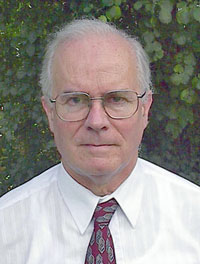 Malcolm Baird, son of
John Logie Baird
Tragedies struck the Baird family in 1946. Early in the year my father had a stroke which effectively confined him to bed, and he died in his sleep on June 14, just a week after the B.B.C. resumed its television service. Four months later my maternal grandmother Cecilia Albu, who had been staying with us since 1939, also died. To make matters even worse, it turned out that my father's estate was much smaller than expected as he had spent a lot of money on his research throughout the war years.
The winter of 1946-47 was marked by record cold temperatures and power cuts, and my mother began to suffer from clinical depression. Rescue came in the person of my father's older sister Annie, a registered nurse, who arranged for us all to join her in my father's birthplace in Helensburgh, Scotland.
We finally left Bexhill in April 1947 and for the next ten years the family were based in Helensburgh. Diana and I got on with our educations and eventually graduated at Glasgow University, she in English and I in Chemistry. My mother recovered from her depression and returned to South Africa, where she had been born and raised. She died in 1996, almost exactly 50 years after my father.
---
The full story of John Logie Baird's life can be found in: John Logie Baird: a life by Antony Kamm and Malcolm Baird, published in 2002 by the National Museums of Scotland.
---
For more information on John Logie Baird and family, visit the Baird Television website.
---
John Logie Baird, the inventor of television, lived in Baird Court from 1941 until his death in 1946. Located at 1 Station Road, the building was demolished in 2007 and replaced with the Egerton Place block of flats.
---
The information and photographs on this page are all © Malcolm Baird and may not be re-produced in any way.