Bexhill's Councils (RDC and ESCC) - Who Does What?
Last updated: 06 June 2017
---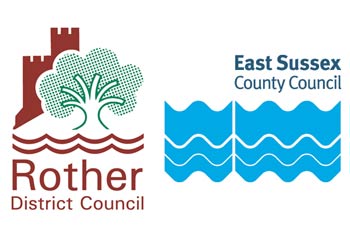 How often have you been in the situation where you need to report an issue - whether it be with local roads, street lighting, pavements, recycling and waste collection or anything else - and haven't known who to contact or end up reporting the issue to the wrong place?
Let's be honest, it can be confusing. We have two councils - Rother District Council and East Sussex County Council - and each of them is responsible for different things. So, just who is in charge of what?
I've asked guest writer Lucienne Corner to find out for us. Read on...
---
The recent construction projects at Marina and the Sackville Road roundabout have been controversial and caused traffic delays, diversions and disruption. One thing these projects have highlighted is how both East Sussex County Council and Rother District Council have had to tackle their various responsibilities while working on these detailed and major regeneration schemes together.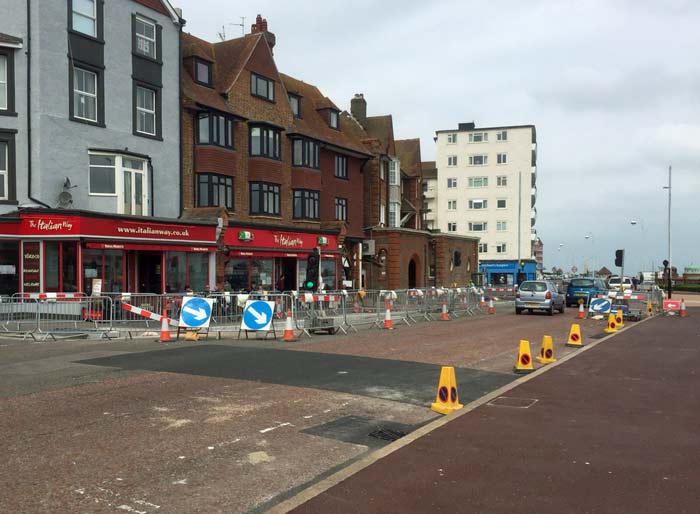 Rome wasn't built in a day, but the Marina project has been ongoing for a long time now.
From the start, when the Marina project was first mooted, there was criticism over the way RDC handled its side, with objection raised by Bexhill residents deeply opposed to the potential paving over of the Oasis garden for the benefit of extra parking spaces in the De La Warr Pavilion car park.
Meanwhile ESCC seemed to win brownie points by appearing more willing to listen to what the people actually wanted, such as with the placing of the zebra crossing near the end of Devonshire Road.
Whatever your own view, it's been an education to see which council is dealing with which aspect of the project, but as in all situations it is hard to see which council does what and why, so straight from the horse's mouth what exactly are the responsibilities of county and district councils?
What are the responsibilities of RDC and ESCC?
Philip Baker, ESCC assistant chief executive, said: "District and county councils have clearly defined roles but we do appreciate that sometimes it can be unclear or confusing as to who does what.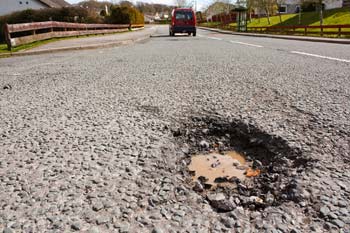 Potholes are becoming a common problem on the roads, and it is ESCC's responsibility to fix them.
"The county council is responsible for highways, which includes roads, potholes and street lights, and a good first point of call for anyone who wants to report a problem with any of these things is the Fix My Street section of our website.
"People can also contact us by calling our highways contact centre on 0345 60 80 193 or via Twitter @esccroads
"We are responsible for providing school places and maintaining standards in schools, fostering and adoption, caring for vulnerable adults, libraries, countryside rights of way and Trading Standards. The county council also has a public health role, working with colleagues in the NHS to promote health and wellbeing.
"One area where county and district council roles overlap is the issue of waste management. The district council collects people's rubbish while the county council is responsible for disposing of it, and managing the county's household waste sites.
Some of the areas covered
East Sussex County Council
Schools
Waste disposal, household waste sites
Fostering and adoption
Potholes
Street lighting
Highways, pavements
Rother District Council
Rubbish collection
Planning policy
Housing
Environmental health
Leisure, parks, gardens, seafront
Toilets
Housing benefits
"While the county council is responsible for certain planning issues, for example schools and waste sites, the majority of planning applications are determined by the district council.
"The district council is also responsible for housing, environmental health, leisure provision, parks, gardens and seafronts as well as such services as housing benefits and public conveniences, to name but a few.
"In addition, in areas where there are parish councils, these authorities have responsibilities of their own on matters such as bus shelters, play areas and other community facilities.
"The district council collects the council tax residents pay and this money is then split between county (75%), district (10%) and parish councils (2%), as well as the police (8%) and fire authorities (5%), to provide the services we all use.
"Anyone who is unsure of which council they need to speak to is advised to check our websites at eastsussex.gov.uk or rother.gov.uk where they should be able to find the information they need.
"People can also call the county council on 0345 6080190 or the district council on 01424 787000."
Where your council tax goes:
East Sussex CC - 75%
Rother District Council - 10%
Parish Councils - 2%
Police - 8%
Fire - 5%
RDC's executive director of business operations Tony Leonard says: "While the district and county council have significantly different roles, there are some areas of overlap and we work closely with colleagues at county in the delivery of services and activities.
---
Your comments
I always love to hear your comments, so please do leave one below. Note that you can post without having a login - simply select the 'guest' checkbox.