What Do You Think Of The Shredded Wheat Clock?
posted by Alastair on 23 Feb 2008 at 12:13 pm
In the interests of having some fresh threads on this message board, I thought I would start up a new thread and ask people what they think of our new "landmark"?

Yes, for those of you who don't know, a new landmark has been erected in Bexhill. Thanks to the enterprise of Bexhill in Bloom chairman Sandra Melvin, the town has received the Shredded Wheat Clock. The novel timepiece created out of the breakfast cereal and modelled on Big Ben, stands 2.5 metres across and five metres high.

The Shredded Wheat clock can be found outside The Cooden Beach Hotel. I have included a photograph of it below. It has also been added to the Gallery. Click the image to view a larger photograph.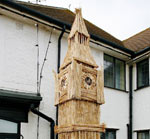 view large photo

So, what do you think everyone?

Alastair
Webmaster of Discover Bexhill
Follow up messages
The Shredded Wheat Clock
posted by Dorothy on 23 Feb 2008 at 2:42 pm
Fantastic. But will it not attract birds who will nibble it to pieces? Or what about heavy rainfall, will it go all soggy or has it been sprayed with a protective shield?

I See Your Clock.......
posted by chris summers on 23 Feb 2008 at 6:02 pm
With shaun the sheep a vast waste of money by Maidstone B.C.Just how much of tax payers money is wasted on gimmicks such as these?
It makes my blood boil! Exibit the fantastic
blood boiling man in your town! ?2500. deposit and weekly payments of 40p plus water

best to bexhill

chris
How Long Will It Last?
posted by Alastair on 23 Feb 2008 at 11:59 pm
I just wanted to follow up on Dorothy's point above. I believe that Shredded Wheat have said that they think the clock will last about a year. This takes into account for the expected weather conditions in Bexhill. I don't know whether it takes into account for the Pigeon who decides he wants his three shredded wheat every morning though.
Three Shredded Wheat
posted by Jude on 24 Feb 2008 at 10:49 pm
Cheers Alastair for introducing a new thread. If the clock attracts visitors then surely that's a good thing for Bexhill.
As regards the pigeon, depends on whether he's called Ian Botham.

How Long Will It Last?
posted by Sandy Melvin - Bexhill in Bloom on 19 Jun 2012 at 4:21 pm
Have just read your messages re Shredded Wheat Clock. This was outside Cooden Beach Hotel for a year, when it was moved to my garden. Now, 4 years later, it is still looking good and a great attraction to my Open Gardens. As for someone who thought it a waste of money! Shredded Wheat commissioned this which was displayed in London for a month along with 8 other famous sites. It did not cost us anything, As we had 12 Historic Clocks around Bexhill, this makes a very novel thirteenth.
Add a follow-up message