Remember, Remember The Fifth of... Erm, Errrr...
Article date: 30 October 2017
Reading time: 5 minutes
---
I have a terrible memory - just ask my wife! I attempt to counteract it with an incredible note-taking ability. I'm the first to admit that I'd probably forget my own name if I didn't scribble it on the inside of my socks...
Moving swiftly on from that slightly unusual opening gambit, let me ask you a question: Where has this year gone? Time seems to move so quickly in the Hazell household, and I'm sure we're not alone in thinking that!
We've already reached the time of year when the Daily Express publishes its traditional, over-dramatic 'UK To Be Hit By Coldest Winter in 500 Years' article; commonly accompanied by photos suggesting a snow-pocalypse that gets readers all excited for when the 5 flakes of snow duly arrive... in early February... 2019. It's become as much of a tradition as the John Lewis Christmas advert, just without any element of fun. Speaking of which, when does that come out?
Let me break this festive undertone before we get too far ahead of ourselves and start boiling sprouts. I want to tell you a little story. Last week a friend sent me a text message: "I've enjoyed your serious articles about the Community Governance Review," it said, "but I've missed your wonderful sense of hummus!" You're probably thinking the same thing I did - I'm not renowned for sharing cooking recipes. But, looking beyond the assumed phone auto-correct issues, I take the point - I've made a note (literally!).
Like my friend, you may have noticed that my last few articles have been on the serious subject of Bexhill's governance review and its importance (I hope you've taken the time to have your say). However, it's time to take a step away from that for the time being and recognise that we're at an exciting time of year - Halloween and Bonfire Night - and so these immortal words from the Dark Knight immediately spring to mind:
Image by
M.J. Lynch
.
Breadsticks to hand, then, and let's dip in and see what delicacies are on offer for fireworks fans over the next week...
Kaboom!
I should obviously acknowledge that not everyone likes fireworks - especially pets. For them, this is probably the most frightening time of year. I hope your neighbours will be kind enough to forewarn you of any plans to put on a display to rival London's millennium celebrations. Should you have a pet, please pass on a big hug from me...
Bexhill has, of course, hosted various displays of fireworks over the years and they really can be a spectacular experience. Take this one, for example, at the colonnade in 2005...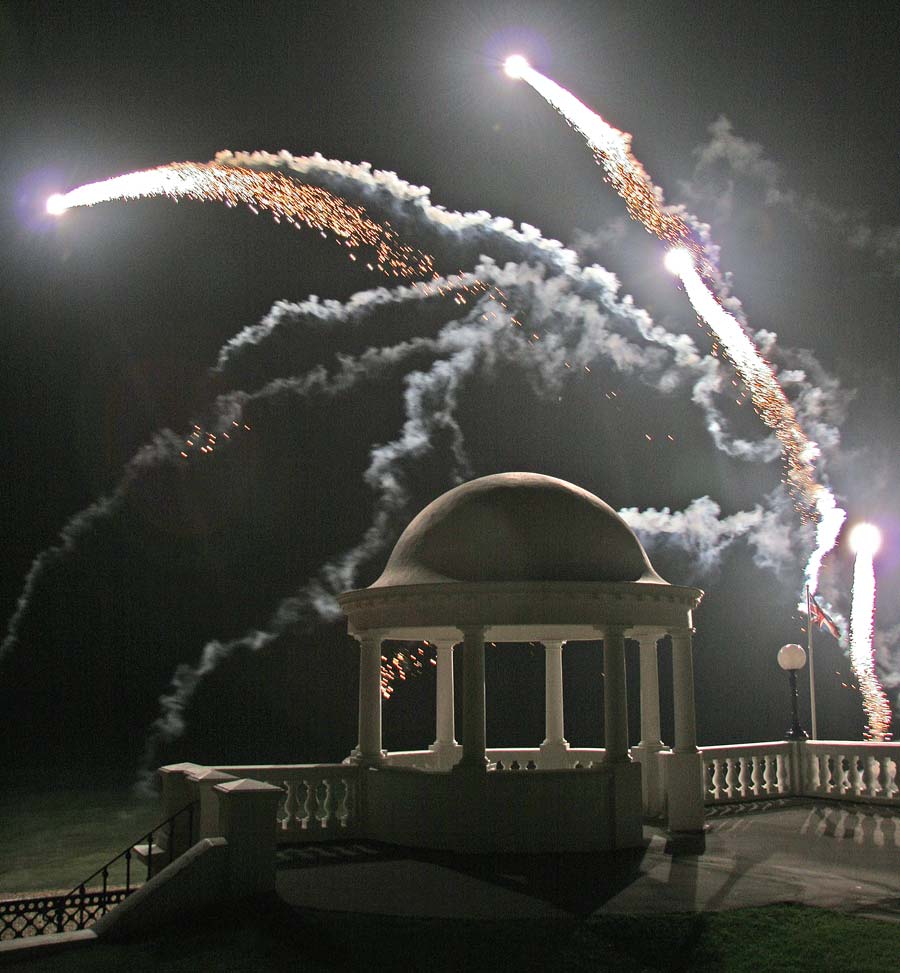 So, what do we have going on this November?
2nd November
St Peter and St Paul Primary School (Buckhurst Road) will be holding a musical fireworks night on Thursday 2nd November. The gates open at 6.15pm with the fireworks display starting at 7pm. Burgers and beverages will be available (you'll need to bring your own hummus). Tickets cost £4 for adults, £3.50 for children and £12 for a family of four.
5th November
Get your sparklers at the ready as Shining Lights (Anna and Michael) have organised a Guy Fawkes Night Celebration for you all to remember, remember...
The Bexhill fireworks spectacular takes place at Galley Hill between 4pm and 7pm. A grand pyrotechnic firework display is promised to cap off an evening of music, entertainment and fun. Here is the Shining Lights Facebook event page...
In order to fund this event, and the town's Christmas light campaign, there's a small £1 entry charge. So, please dig deep into your pockets and support them and let's keep Bexhill's fabulous Christmas lights twinkling!
And that brings me to the end of this article. I hope your fireworks night goes with a bang. I'm off to buy myself a snow shovel and fifteen bags of grit (you can never be too prepared!). But, fear not, for I'll be back soon with a delicious recipe for taramasalata (if I can remember it).
Alastair Hazell
P.S: What do you get when you cross a dinosaur with fireworks? DINOMITE!
---
Your comments
I always love to hear your comments, so please feel free to comment below. Note that you can post without having a login - simply select the 'guest' checkbox.