Does Bexhill Need a Town Council?
Last updated: 16 October 2017
Reading time: 8 minutes
---
Everyone of all ages who lives or works in Bexhill has the opportunity to tell Rother how they want Bexhill to be governed moving forward. This Community Governance Review is the town's biggest consultation since 1974 and you can get involved up until 31 October 2017.
We'll start this article with an introduction to the four options and I will then go on to explain why I believe a town council is the best option to take Bexhill forward. At the end, you can then decide whether to take Rother District Council's quick survey.
Rother's deputy leader Martin Kenward is quoted as saying that an 'overwhelming response' will be required from residents in order for a change of governance to be backed. As of 20th October, 8,245 responses have been recorded, which is fantastic!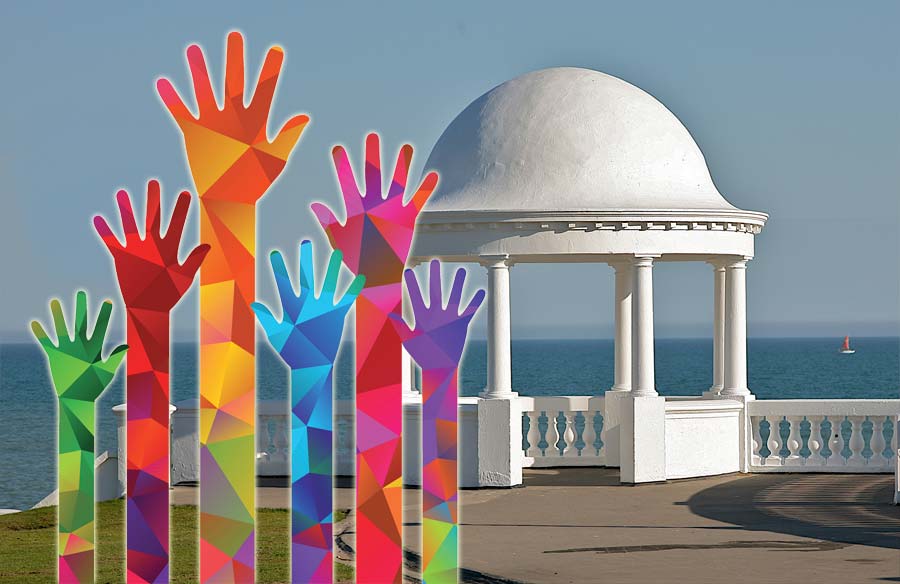 What are the four options?
No change
A town council
An area committee
Four new parish councils
How does the current governance work?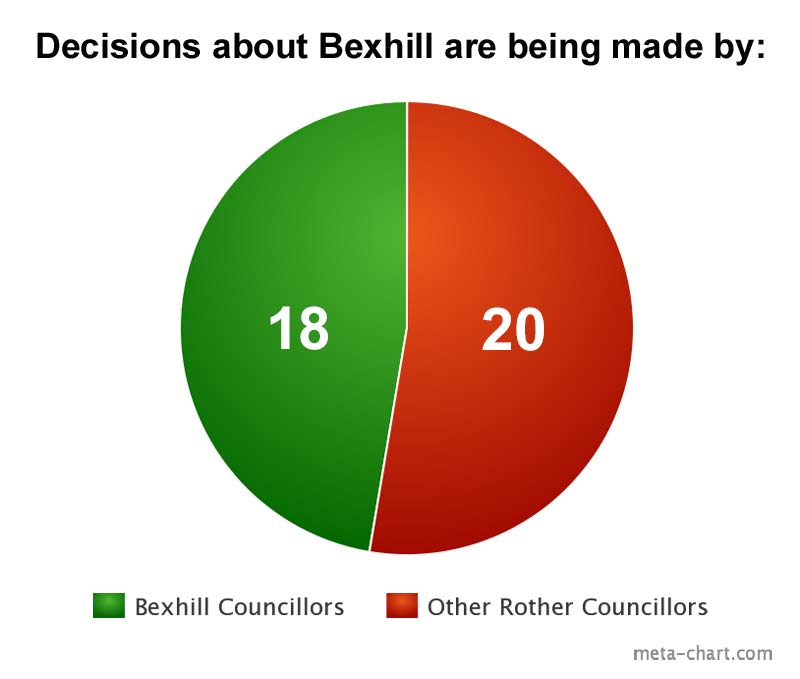 Decisions about services provided to Bexhill residents (detailed here) are made by Rother District Council's 38 councillors. It is worth noting that at present only 18 of those 38 councillors making decisions about Bexhill live in Bexhill and the remaining 20 live in other areas of Rother.
Each one of the 38 councillors has equal voting rights on Bexhill issues. This means that you rely on councillors from Rye, Battle and other areas to know Bexhill well enough, and care enough about Bexhill, to make the right decisions about it.
Also worthy of note is that whilst Bexhill does not have a town council, both Battle and Rye, the other major towns represented by Rother District Council, do. They clearly see benefits in continuing to have this extra tier of governance.
What would an area committee (option 3) involve?
An area committee would involve the 18 councillors from Bexhill wards meeting together regularly to discuss Bexhill-only issues in a consultative committee. It is important to note that no additional power or decision-making ability would be given to this committee - it would simply be advisory. This option would not be without cost to you, the tax-payer, as additional staff would be required to manage it. Rother has estimated costs to be in the region of £45,000 to £90,000 per year.
I would suggest you might be hard-pressed to spot the benefits in this one. However, if you would like to find out more, this page will explain it.
Four parish councils (option 4)
A proposal put forward by the governance review is for Bexhill to be split into four new parish councils - North, South, East and West Bexhill - with 17 councillors elected to each parish. Some quick multiplication will show you that 4 x 17 = 68 councillors. With minimum costs for running each parish council estimated to include "employing a parish clerk to manage the money, any staff, contracts and services, rent offices and meeting rooms and meet day to day operating costs," you will see that the costs appear to rise extensively.
When compared to the 18 councillors for a single town council, you'll perhaps figure that this seems a step too far.
Town council (option 2)
As with the Four Parish Councils option above, a single Bexhill town council would establish a first tier of local government below Rother District Council - a tier that is closest to the people. Rother District Council have tagged this option as the creation of one parish council for the whole of Bexhill (to be styled as a town council).
There are currently around 9,000 parish, town, community and neighbourhood councils across England. In this case, the town council would be a single entity - one council for the whole of Bexhill.
Being independent of Rother District Council, a Bexhill town council would take over a number of the services that Rother District Council currently undertakes. These could include: (1, 2)
sports facilities
children's play areas
allotments
bus shelters
community centres
parks and open spaces
providing financial grants to local community groups, charities and voluntary organisations (grant schemes)
consultation on neighbourhood planning
In addition, other town (and parish) councils around the country have been able to assist with:
litter
graffiti
cycle paths
public toilets
community safety schemes
facilities for young people
traffic calming and parking regulations
housing and neighbourhood planning
empty shops
ideas to help make the town more attractive (flower baskets, etc)
tourism activities
As a local council, a Bexhill town council would also have the opportunity to apply for grants; opening doors to new sources of finance for the town.
The message seems to be that you can look upon a town council as an enabler to provide enhanced benefits and services especially for Bexhill and its residents.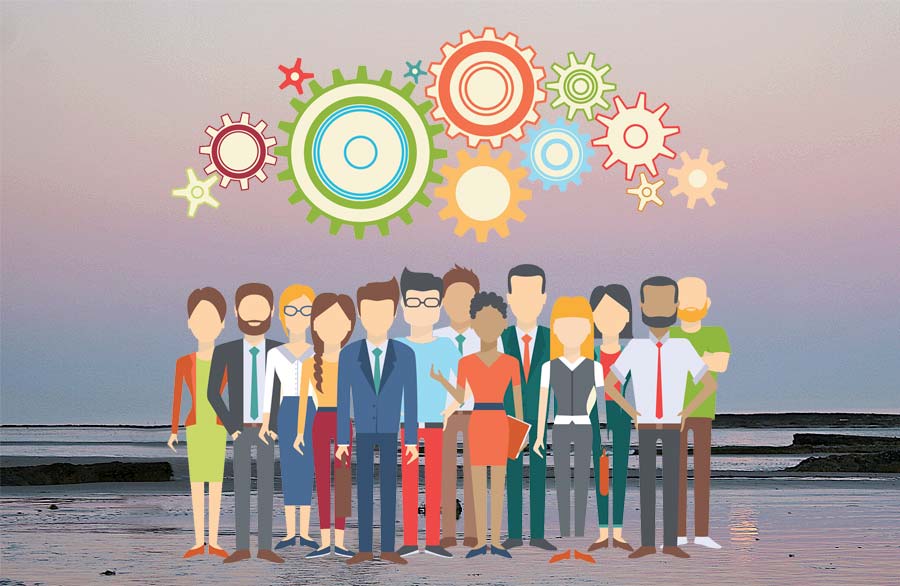 What would a town council cost me?
As discussed for the parish council option above, having a town council would cost money. Although the 18 town councillors would not be paid, additional yearly costs would be incurred for hiring a parish clerk to manage the money, plus any extra staff, contracts and services, rent for offices and meeting rooms and day to day operating costs. The additional costs for a town council would be charged as a 'precept' through your council tax bill.
Rother has published figures suggesting the annual increases in council tax for a town council could be as follows: (5)
Council Tax Band A: £15.17
Council Tax Band B: £17.69
Council Tax Band C: £20.22
Council Tax Band D: £22.75
Council Tax Band E: £27.81
Council Tax Band F: £32.86
Council Tax Band G: £37.92
Council Tax Band H: £45.50
However, Rother estimates that the running costs of a Bexhill Town Council would be in the region of £100,000 per year. This works out at £6.17 per year* (12 pence per week) per Band D property.
The remainder of the £22.75 additional council tax for a Band D property appears to be based on Rother's assumption of what services currently administered by Rother would be transferred to a Bexhill Town Council with no corresponding reduction in the Rother element of the Council tax.
One of these services is public conveniences. The inference could therefore be made that, should the "no change" option be selected, Rother could shut all its public conveniences in Bexhill and no other public body would be able to save them.
* figure based upon £100,000 divided by 16,200 tax base.
Success stories
You only have to have a quick scout around the internet to find case studies showing the benefits of town councils. Having formed a town council in Aylesbury (population 40,000), they were able to form an agreement with the local county council to deliver minor maintenance to footpaths and road surfaces (3). In addition, Aylesbury town council now maintains street furniture and signs and tackles what they call 'grot spots'. A funding package was also agreed with their county colleagues to match the spend of the town council, opening the door to investment in staff and equipment for maintaining and regenerating the appearance of the town.
Battle has a town council (as does Rye)
Battle has a population of 6700 people, compared to the 43,000 residents of Bexhill, and it already has a town council providing a first tier of local government above Rother District Council. This means that Battle councillors, rather than Rother District councillors, are making key decisions on functions and services that include: (4)
civic awards
The Almonry (offices, museum, public garden)
allotments
the cemetery and church yard
recreation grounds
play areas
open spaces
Battle's magazine
providing local grants
town twinning
events
Making the case for tourism and events
In my article following the Bexhill Roaring 20s, I discussed the need for a change in funding policy for Bexhill's major events to survive. From my point of view, as an investor in Bexhill and its events, I believe that a town council could open up great opportunity to really get behind Bexhill's community events.
Is now the right time to be spending?
People have said to me - with current cuts and austerity, is now really the right time to be doing this? To that I respond that now is precisely the RIGHT time to be taking more control over how the money generated from your council tax is spent in Bexhill. As a Bexhill resident, you want your council tax money to be used in the most efficient and best way for you and your family to see the benefits.
How can I give my vote?
This consultation is now closed. Please see the update below.
Update - December 2017
The results of the consultation can be found in this article here. A total of 9,227 valid responses to the consultation were received (an unprecedented number for a consultation). 93.5% of the responses were in favour of a Town Council.
Disappointingly, on 18 December 2017 at a full council meeting, Rother District Council voted not to back a Town Council for Bexhill.
Alastair Hazell
---
Your comments
I always love to hear your comments, so please do leave one below. Note that you can post without having a login - simply select the 'guest' checkbox.