No Bexhill Roaring 20s For 2018
Last updated: 30 April 2018
Reading time: 10 minutes
---
I sit here writing this article with a tear in my eye. Believe me when I tell you this is an article I hoped not to have to write for a long time.
---
It is with deep regret and sadness that Roger Crouch and I today announce that Bexhill's flagship event - The Bexhill Roaring 20s - will not be returning in 2018. We have been forced to make this decision because of a lack of committed Rother District Council funding towards our community (non-profit), free, family event. It goes without saying that losing Bexhill's biggest event for more than 15 years will deal an enormous blow to Bexhill's tourism economy this year. Our event has successfully generated many hundreds of thousands of pounds of yearly income for Bexhill and brought people from far and wide to both visit and live. And that's the important point in this - Bexhill has always made the money and yielded the benefits from this event - we, the organisers, have never made a bean (in fact, we've spent tens of thousands of our own money on it).
Let me tell you that since 2017's blockbusting event, we've received emails and phone calls every day asking us for details of the 2018 event. Even as I write this, someone has emailed asking for this year's date - they want to bring a coach party of people to Bexhill from Blackburn for the event. It is the third enquiry we've received in the last few weeks about bringing a coach to Bexhill. I find myself wondering: what is the value of each coach to the town? £1000+? And if some of those people decide they like it here and move here (as many have done), what value does that bring?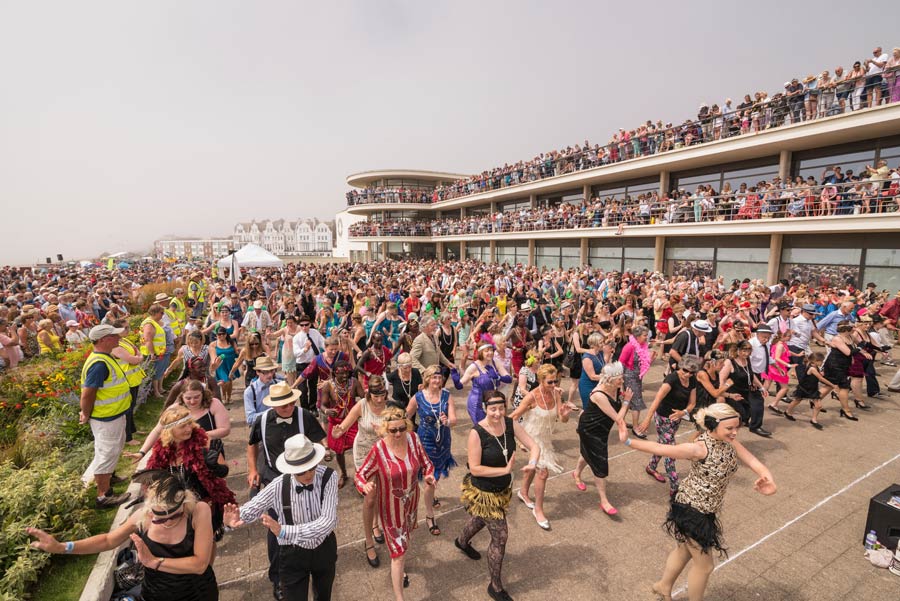 Rother District Council funding
You may remember that following last year's highly successful event we called upon Rother Council to work with us to try and keep it going. Sadly, despite initial interest from a few councillors, no change in policy has been forthcoming from their key decision makers in the Cabinet.
To be perfectly honest with you, Roger and I could have withdrawn the Bexhill Roaring 20s when Rother Council initially withdrew our funding last year. The policy, set out by Councillor Martin Kenward (portfolio for Bexhill Affairs) and Rother's Cabinet, has been to 'pump prime' events for the first three years. After that time, events are expected to stand on their own. I met with Councillor Kenward early last year to explain the fundamental problems with this policy and put forward a case for continued funding for community events like ours and the Bexhill Festival of the Sea. As a successful entrepreneur and businessman, I considered it a 'no-brainer' to make the change.
Following that meeting, an amendment was made to allow a small amount of funding for ongoing events - some credit was due for that. However, the funding put forward for the Roaring 20s 2017 was less than 1/3 of that originally given. Frustratingly, decisions on funding events seemed to continue not to take into account the financial benefit to the town or, critically, whether events were commercial (profit-making for the organiser) or community-based (non-profit).
In the email communications that followed, it was reiterated that the Council firmly believes that they are not the sole provider of events and that all events should all become self-financing. My message clearly hadn't got through that this policy doesn't work with community events like the Roaring 20s (the town reaps the benefits through tourism). There simply aren't enough big businesses in Bexhill to be able to finance these kinds of events with sponsorship alone. It is my belief that Hastings' and Eastbourne's major events may not exist if their councils adopted the same policy (imagine no more Airbourne!).
For 2017's event, as Rother decreased their contribution, so I had to increase mine to make up for it. Unfortunately, however, that simply isn't sustainable.
When I tell you that Roger has had to take on additional work this winter, and indeed dip into his pension money, to pay off debt from the 2017 event, you'll understand why this situation can't continue. We've never had a large amount of council funding. But, in the first three years, we had enough to contribute towards the £20,000+ costs of running the event.
One of the saddest things about this situation is the conversations we, and others, have had with members of the public who believe Rother District Council pays for and organises the Roaring 20s. I am quick to acknowledge that we do have great help from Rother's officers (Emma, Lisa, Melanie and Karen in particular). But, it is Roger and our band of volunteers who do all the hard work.
Commercial versus community events
At this stage, I think it's worth explaining the difference between commercial and community events.
We talk about commercial events as being ones that make a profit for the organiser, compared to community events like the Roaring 20s and Festival of the Sea. Our community events struggle to break even because of the costs involved in paying for performers, musicians, dancers, air displays, insurance, etc.
For community events, money is reaped solely by the town, not the organiser (because of the impact on the tourism and visitor economy). It is for this reason that Hastings and Eastbourne Councils fund their major community events. They recognise the importance of their events for their tourism and visitor economies.
Despite the huge cut in council funding support in 2017, Roger and I were initially determined to persevere with what was, in our belief, a great event and advert for Bexhill. We had a vision for the Roaring 20s. Please allow me to share it with you...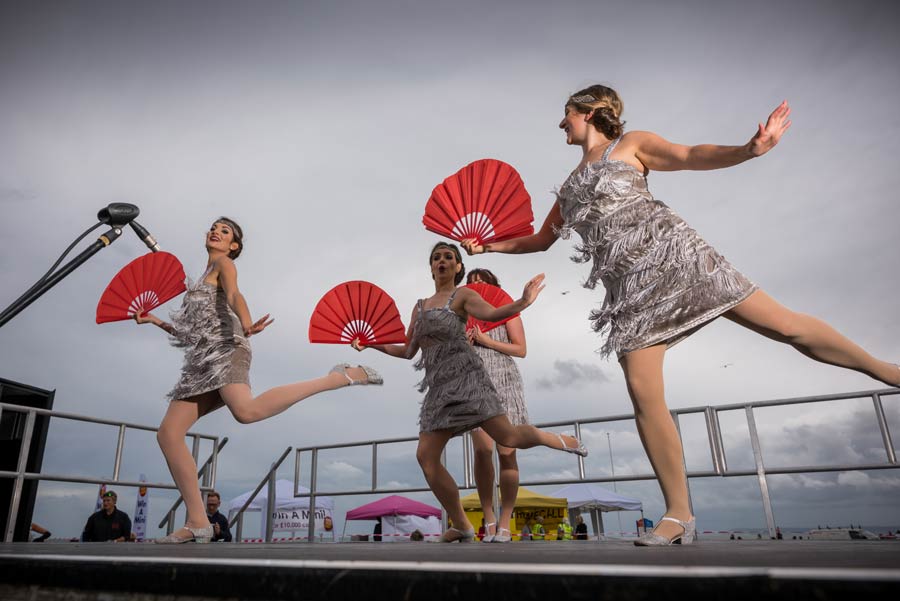 Our vision for the Bexhill Roaring 20s
Our original aim was that by the time the Bexhill Roaring 20s was in the fifth year, we would have at least a weekend if not a week-long 1920s festival in Bexhill to boost tourism. The only other two places throughout the world that have town-wide 1920s events are in New Zealand and Australia (sponsored and funded by their councils and governments). To achieve this goal, we would have needed more council support. The evidence was clearly there, after the first two years, that our event had a huge economic impact on the town. Therefore, more investment would surely make business sense? More investment, to earn even more money for the town. Very sadly and bizarrely, however, the opposite decision was taken - funding was taken away and used to 'pump prime' new events (profit-making or otherwise).
Last year's event was tough on both Roger and I. We have both put a lot of time and money into this event. If we had been sensible, we might never have gone ahead with the event in 2017. But, we love putting on a show. And that makes today's announcement hard.
We weren't expecting Rother to fully fund the event, and we recognise there isn't the money available to do so. What we were looking for was a sign of intent - to increase funding back to the level at which we began. And that simply has not happened.
Of course, I can't put all of Bexhill's councillors in one basket here. Councillor Sally Ann Hart (Rother portfolio for Tourism) has been sympathetic to our cause and has been looking at options that might help events in the future. Councillor Simon Elford had the vision to establish and manage the original events budget and has always been fantastic in doing everything he can to push our cause (I have a lot of time for this man). Councillor Azad from Central Ward has shown interest in the event continuing. And, of course, all the independent councillors have done as much as they can to help. However, I feel the key decision makers in Rother's cabinet have let us down, and let Bexhill down.
Is more funding available?
I believe more funding is available. Taking away from the fact that Rother Council's policy removes funding after three years and expects events to be self-sustainable (which cannot possibly happen with 'community events'). Other funding could be found and moved if they look at the yearly distribution deal for what is now a non-existent Bexhill Guide publication. It simply requires creative thinking and some business nous.
And then there's the confused thinking of paying out £7,500 to promote Bexhill's events at London railway stations and in public relations campaigns. Don't get me wrong, last year's posters looked good. But, what we desperately need is funding for the events themselves.
National and international recognition
The Bexhill Roaring 20s has had four fantastic years, and there is no doubting its enormous contribution to Bexhill's tourism and visitor economy (many millions of pounds, potentially?). I don't think Bexhill has been mentioned internationally so many times as it has over the last four years.
From stunt fights to dancing acts, live music, performers, vintage cars, exhibition stalls, F1 cars and more, the Bexhill Roaring 20s has brought immense fun and entertainment to all ages and involved local dance schools and community groups.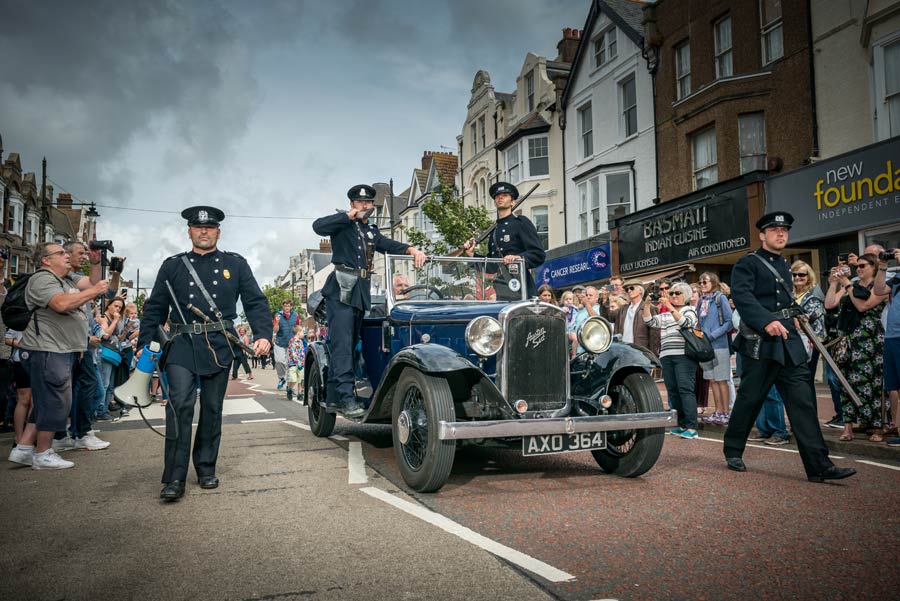 Bexhill featured prominently on the UK Airshow website and we were privileged to have the Breitling Wing Walkers, the Royal Air Force Battle of Britain Memorial Flight, Dakota, Spitfire and Hurricane display (amongst many others) displaying over Bexhill seafront.
There's so much to look back on and remember fondly...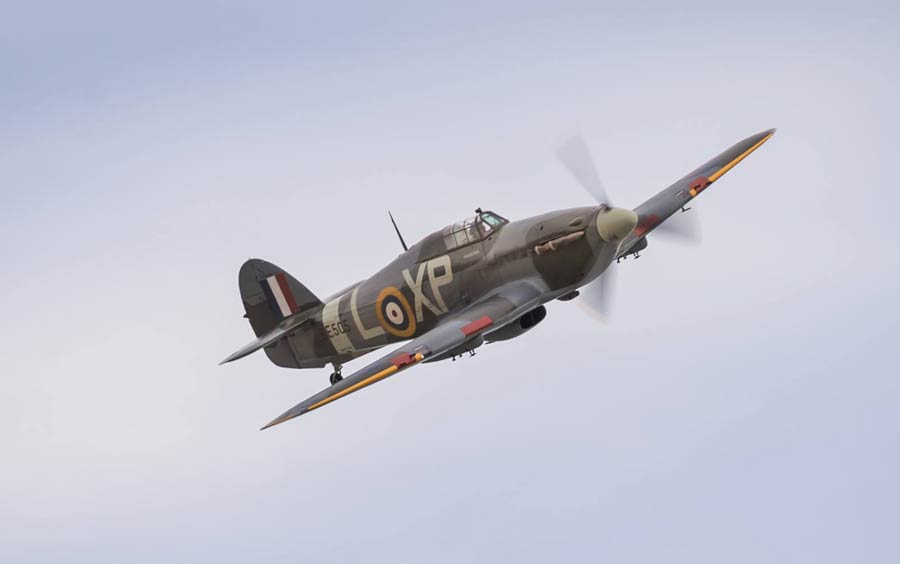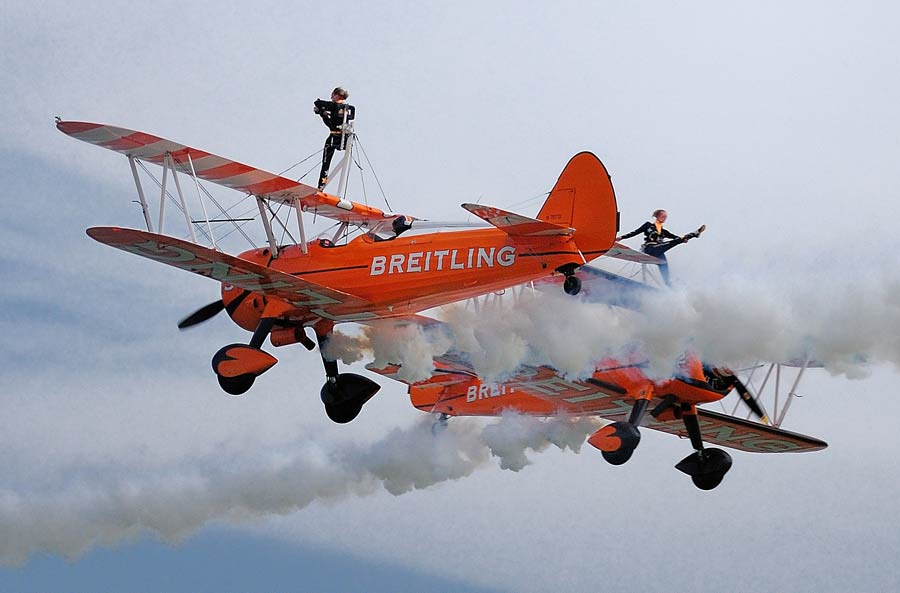 We were keen for this event to be an event for all the family, and I think we succeeded.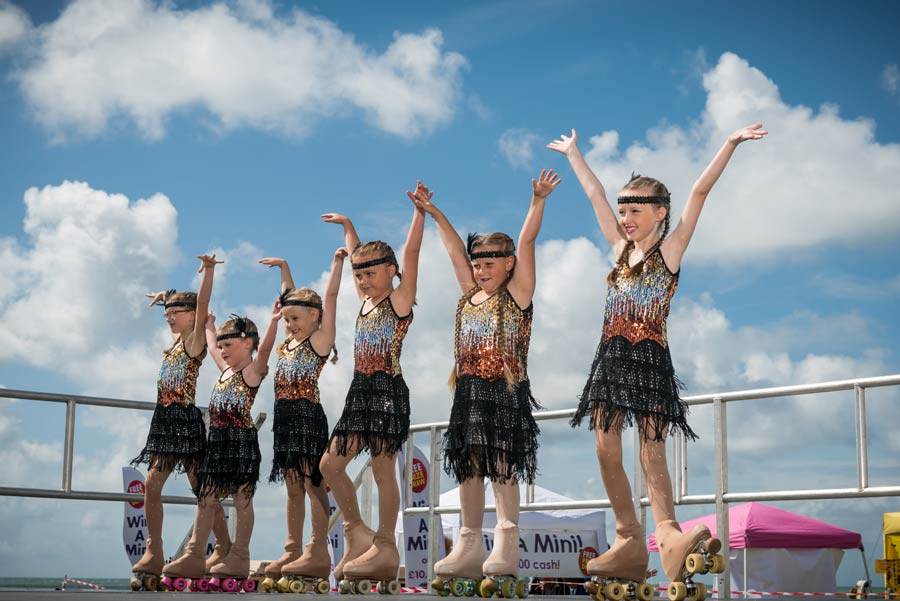 And then, of course, there was the yearly Bexhill Roaring 20s Charleston Challenge and Bexhill's 2015 world record (we are still in discussions with Guinness regarding the 2017 attempt).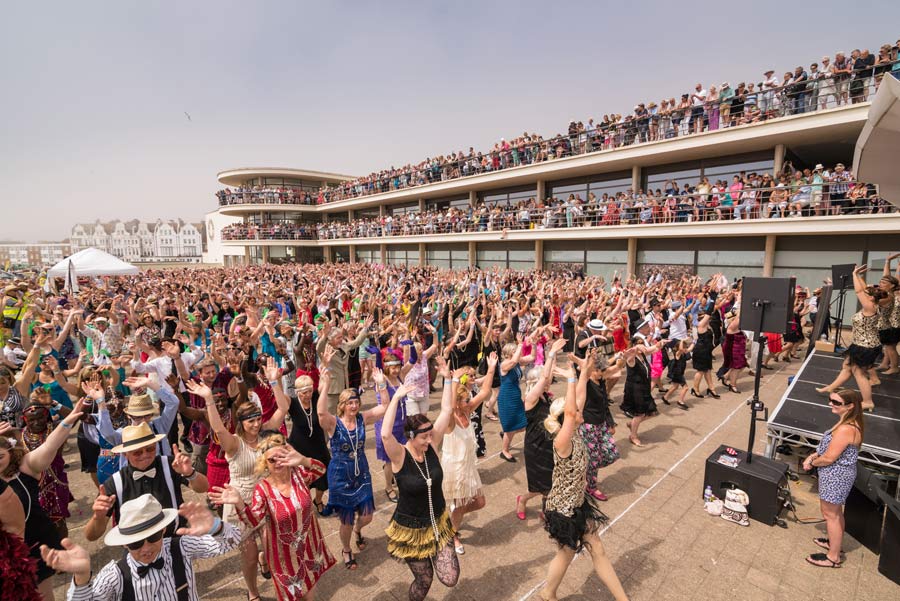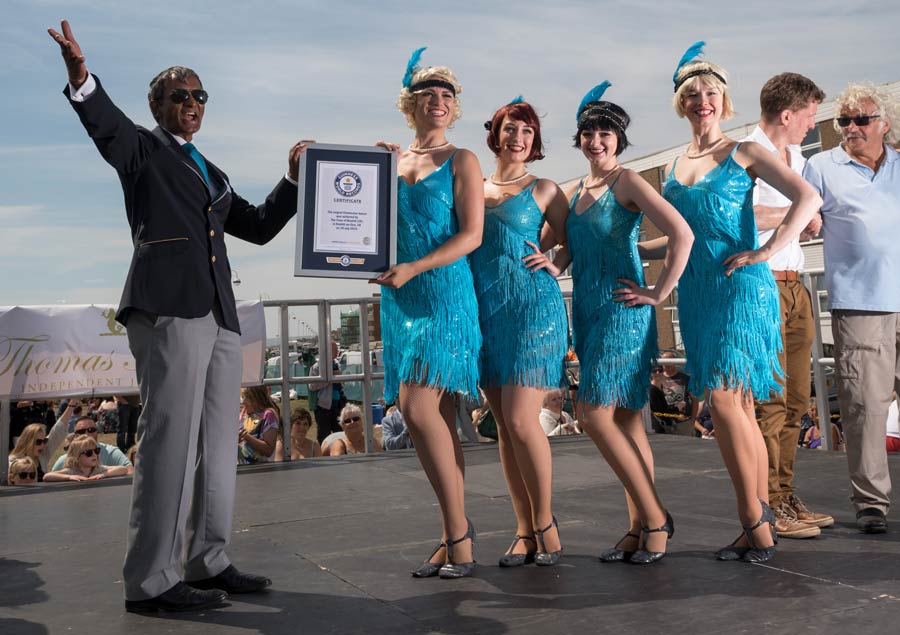 Thank you
At this point in my article, I would like to convey thanks on behalf of both Roger and myself to a number of people. Firstly, those who helped us put this event on over the four years. We can't mention everyone, but I would like to pass on special thanks to: Fiona Hemsworth, Carlie Stace, Nikki Parker, Gary Fellows, Agata Hazell, Simon and Abi Newbury, Chris Yates, our leading ladies from Debonnaire Entertainment, our stunt performers, Stella and the Old Bathing Station, the Bexhill 100 Motoring Club, all the dancers, singers, performers and exhibitors and all the wonderful marshals, collectors and helpers. In addition, to all those who sponsored and donated towards the event, we are most grateful for your support.
I would also like to mention Claire Baldry and the '3 Events Bexhill' fundraising group that she has formed to raise funds for the Festival of the Sea, Roaring 20s and Shining Lights. The two other events mentioned here similarly require funding if they are to continue. So, please do continue to support Claire and her fundraising.
Finally, we would like to acknowledge the great cooperation we have received from Rother District Council's officers: Lisa Hayward-Bartlett, Emma Wray, Melanie Powell and Karen Newton.
And, of course, we would like to thank you for being part our event and for making our four years so special.
How will Bexhill feel the loss?
The Bexhill Roaring 20s has been Bexhill's biggest event since the gargantuan Bexhill 100 Festival of Motoring. Even some who were lucky enough to be at both events have commented that they've never experienced an atmosphere like that of last year's Charleston Challenge. The Roaring 20s may now go into Bexhill's history books alongside the Bexhill 100 (which, coincidentally, could have been saved by some creative thinking and a change in council legislation - something I am told was acknowledged by councillors many years after it had ended).
The biggest impact, however, will come to the town's economy in 2018 and possibly beyond. Bexhill has been packed for every Roaring 20s event and the town's evening economy has received a huge boost. In addition, many people chose to relocate here specifically because of the event.
What do I expect to happen now?
Next week you may well read a press release from Rother District Council to say that they believe their policy is right. I suspect it'll probably be unemotional and make no mention of the contribution of the event to the town and the incredible work of Roger Crouch and the Roaring 20s team.
When you read the words of the Council, perhaps think about whether it's right that Roger, who I help organise this event with to bring joy to the town that we love, should have to raid his pension and sell his personal memorabilia to pay for it.
What we need in this town is more councillors with a 'can do' attitude, who are prepared to listen and respond to help those who are trying to make a difference. It is my belief that choosing to stick one's head in the sand has lost the town the Bexhill 100 Festival of Motoring and now threatens to lose the Bexhill Roaring 20s. It is an enormous shame. At the end of the day, I believe both these great events have been let down by decisions not to change council policy to help them. If you believe that Bexhill deserves better than this, I have to agree with you. Reading all this, one might question if Bexhill really wants tourism.
This is a sad day...
Update: As I predicted in my article, the follow-up from Rother District Council was entirely unemotional. You can read it at the bottom of this Bexhill Observer article.
A final note
I would like to end this article with a quote from Roger:
In creating the Bexhill Roaring 20s, Alastair and I wanted to bring a unique event to Bexhill that befitted the town; engaging the community, bringing visitors from far and wide and promoting all that is great about Bexhill. We believe we achieved that objective.
Update: Although we would have loved to have remained in Bexhill, it has become apparent that we now cannot. Because of this, the Bexhill Roaring 20s will likely move to a new home in 2019 and we are currently in discussions with a number of town councils along the coast that are active and have vision. To continue to remain updated, please visit the Bexhill Roaring 20s website or follow via the Bexhill Roaring 20s Facebook page or the Twitter feed.
Written by Alastair Hazell
---
Your comments
I always love to hear your comments, so please feel free to comment below. Note that you can post without having a login - simply select the 'guest' checkbox.